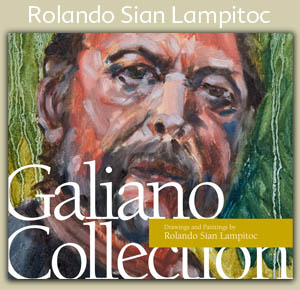 Galiano Collection. Contains over 50 paintings and drawings by Rolando Lampitoc. Available on blurb.ca.
Welcome to our Gallery Showroom
Bodega Gallery showcases the best work of Kasumi and Rolando Lampitoc. Inspired by the natural west coast, Kasumi produces functional and decorative pottery while Rolando paints with encaustic, oil and watercolour.
Bodega Gallery is a showroom exhibiting paintings, sculptural and functional ceramics by Rolando & Kasumi.
Now open Friday, Saturday and Sunday
12pm to 4pm

Located at 282 Warbler Road South, Galiano,
British Columbia, Canada.
Call at other times 250 539-3787 or email


Galiano Island is accessible by BC Ferries from Tsawwassen near Vancouver or from Swartz Bay near Victoria.
Click here for BC Ferries schedule.

Other Information about Rolando and Kasumi
Kasumi Pottery website
www.kasumipottery.com
Kasumi's latest works, events and representing galleries.
Rolando Lampitoc's website
rolando.lampitoc.com
View the latest encaustic, watercolours, oils and sketches.
"Arbutus Roots"
Encaustic Painting, 24 x 16 inches

Call for more information: 250 539-3787